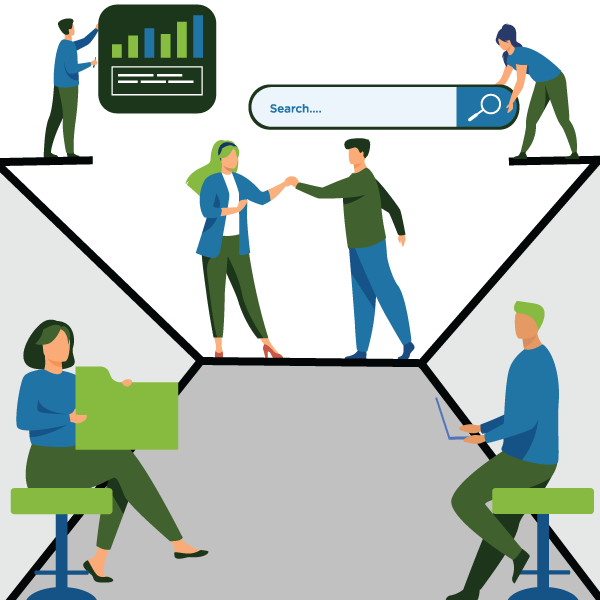 Who We Are
In the mid-90's, our Founder, Tom Adams purchased his first domain name and began to build a website to support his consulting and speaking business.  As an early adopter of website technology, Tom also helped friends with their websites.
As Tom's consulting practice grew, his knowledge of websites and the developing power of the internet also grew.  His consulting clients often asked him to build websites for them and also support their basic web marketing needs.  From that, a web marketing services business evolved.
Fast forward 20 years and WebVitality is now a boutique web marketing agency run by an elite web team ready to serve you.  We'd love the chance to support you and your needs.
Meet our team
You want experts and elite service providers to support your web marketing needs.
Each member of the WebVitality team makes it a priority to be the best they can be in their respective fields.
Our Philosophy
When you choose a web services vendor, fit matters. There needs to be a sense of mutual benefit and alignment that supports the whole relationship—in other words, your vendor must become your partner.
Your desired outcomes and results matter to us. We make sure we understand what you hope to achieve by working with us, then we go to work to accomplish those objectives. We want to see your business thrive, and we will do everything we can to make sure that happens. Here are some important beliefs and values that matter to us. We share these in order to give you a glimpse of who we are and what we care about to ensure we are a good fit.
Your trust in us is critical to our relationship and ability to work together. To build trust, we do things with integrity. We know that it takes a long time to build trust—and just moments to lose it. As a result, trust is a core value in our business.
You want to work with people that are interesting, personable and pleasant. We do too. So those are the people we hire and add to our elite team. We want your experience with us to be positive and inspiring.
Our relationship with you is a partnership. And despite our expertise and knowledge, we make mistakes. While we love to share only "the good," we know that becomes suspect unless you also know "the bad and the ugly." So, even when it's painful, we will let you know when something's wrong or what's not working.
You undoubtedly know that systems supported by defined processes and procedures are the secret to consistent, quality results. We live and breathe these systems at WebVitality. Behind the services we offer are years of testing and proven systems that work. We have standard operating procedures and follow checklists to the letter. We make use of project and task-management tools to support our commitment to quality.
The web marketing world is complex. The solutions and services we provide for you involve a deep understanding of this complexity. We work hard to keep learning and be leading experts at what we do. We know you don't really want to do what we do, but it sure helps if you know enough about it to make good decisions. So we help you to learn what you need to know. Sometimes we'll challenge your assumptions about the way things work and what you want us to do, but we do this from a place of educating so you can make informed decisions and requests.
Systems without new improvements and breakthroughs would be the kiss of death, especially in the rapidly-changing web environment. We're constantly challenging ourselves to better our best, using our ingenuity and creativity to build new and better ways to create results for you.
Add Some Vitality To Your Web Marketing Today!